Welcome to the Danube cycle path!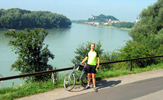 We are a bunch of keen cyclist who would like to get more people cycling the Danube cycle path. The cycle path provides opportunities for all kinds of cycling, from leisurely paced cycling to even road cycling. The cycleway is perfect for solo travellers, families and bigger groups of cyclists alike. There is plenty of space. So even tandems and recumbants are seen here regularly. The Danube cycle path is the perfect place for cycling holidays.
From the river's source in Germany down to the Black Sea it is about 1,800 miles. On it's way, the Danube passes ten countries. As a cyclist, you will most probably be interested in the Danube's course through Germany, Austria, Slovakia and Hungary. The paths here are much more developed than along the river further downstream. So we separated those stages each and summarized the remaining part as 'further East' on this website (see top of this page).
Start your adventure by clicking on the menu above. The Danube cycle path is already waiting for you!
Peter, Bärbel and Andre