Self-guided cycling holidays on the Danube cycle path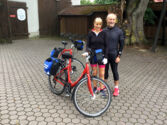 Going on a self-guided cycling holiday is the perfect choice if you like to cycle at your own pace while enjoying the comfort of having accommodation prearranged and luggage forwarded each night. Of course, map reading skills are essential.
Included in a self-guided cycling holiday package is pre-booked accommodation, a set of maps and daily luggage transfer. You also receive a phone number that you could ring in a case of emergency. Additional services like rental bicycles with panniers, extra nights and dinner packages are available. The prices of the packages mainly depend on the type of accommodation that you chose. The higher the chosen category - the better the hotels and inns promise to be.
How does a self-guided cycling holiday work?
After booking and paying for your self-guided cycling holiday you receive an information package. Amongst other information, the package answers the two main questions you will have:
What hotels are you booked in?
Where to pick up your rental bicycle?
Anything else is pretty straight-forward: Have your luggage packed and ready to be picked up before 9 am every day. You will receive labels that you attach to your suitcase(s). So the luggage transfer service staff knows where to take it to. The hotel reception will tell you where to deposit your luggage in the morning.
You also receive a set of maps that comes at a very detailed scale. Additional touristic information and recommended day-time activities and places to eat will help you every day. It is recommended planning (at least) one day ahead: What route to take (if there is a choice)? What to visit along the way? When to pass certain waypoints in order to keep in time?
Once you get to your next hotel, check in with the hotel vouchers that you received and pick up your suitcase(s) from where the driver put it. Your luggage is supposed to be there by 5 pm. It is often there before that time.
From our experience with self-guided cycling holidays
Until you made the booking, you don't know for sure what hotel or inn you will be staying at. So you might end up in a small village where there is no restaurant providing an English speaking menu. If you don't speak German or don't like translating the menu with your smartphone, you better take a package of a higher hotel category.
Occasionally, a chosen hotel is in a certain distance to the cycle path, sometimes even in a very remote place. You would struggle getting there by bicycle. In such a case you are expected to be at a certain spot and at a certain time. You will be taken to your hotel in a min-van. This shuttle service will also take you back to the cycle path next morning.
An app that is advised to have on your smartphone while being on a self-guided cycle tour is a <map app>. Get one that lets you download maps of the area. Do so before leaving home. Those maps will assist you not only when getting lost but also when your hotel doesn't want to be found. This might happen in big cities or when arriving later than expected. The maps that are provided, although perfect for the cycling part, sometimes don't show the exact way to your hotel.
If you don't trust your smartphone's battery, print out a street map of the area around every hotel that you are booked in (from Google maps, bing maps or OpenStreetMap).
What luggage is allowed to bring? The tour operators got different rules about that. In general, think of a limit of 20 kg (44 lb or 8 st) and a set maximum number of pieces per cyclist. Check with the tour operator if this is relevant to you.