Danube cycle path maps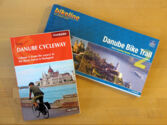 If looking for printed material, you will find maps as well as guide books that include maps.
The most important publication comes from Esterbauer publishing house. They put together a series of five booklets that include excellent maps, written directions (though unnecessary) as well as background information about some of the places along the way (mostly history stuff and lists of sights). The spiral-bound maps come at a perfect scale to find your way while cycling.
Additionally, Cicerone published two small books, together covering the Danube cycle path from start to finish. The maps herein are less detailed. These books might be the best choice as a present to convince someone of joining you on the Danube.
Well, while these publications are in English, there are maps in German language available - certainly no problem for anyone who can read maps.
We present all available maps in the corresponding section of the Danube cycle path:
Comment
If you are a publisher of maps that are useful for cycling the Danube, don't hesitate contacting us. We will be happy to review your maps and mention it on the page.