Maps and guide books covering the Danube in Austria
If you plan to do a self-supported cycle tour, it will be very helpful having a good guide book or at least a map. While there are many books out there, the two most recognised ones are the "Danube Bike Trail 2" guide book (by Esterbauer) and the "The Danube Cycleway, Vol. 1" guide book (by Cicerone).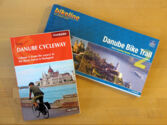 We recommend getting the "Danube Bike Trail 2
" guide book. It provides useful maps at a scale of 1:50,000, additional route instructions and hints as well as lists of (probably all) accommodations and camp sites along the cycle path, including phone numbers and price proximates. You will even find cultural information about the places along the way and details about surface and traffic - if there is any.
By the way: In case you book a self-guided cycle tour along the Austrian Danube, your local tour operator will provide a copy of this guide book. Surprisingly, we realised that these copies sometimes do not show the pathes on both sides of the Danube. Hence you may get yourself the original Esterbauer guide book despite taking a self-guided holiday - to know all available cycle paths and to see what the paths are like (proximity to the river, flat-ness of the cycleway, safety evaluation).
In case you need to safe €3 or €4, you may instead buy the "Donauradweg Danube Bike Trail" book, published at Freytag & Berndt (green-red book cover). However, the provided maps come at a scale of 1:125,000 only.
Additionally recommended literature for the culturally interested reader:
Here are a few books that you might be interested in as well. They cover specific places along your way in more depth:
Maps and guide books in other languages:
While those come in a language that is easier to understand, have in mind that the maps might be not as precise as in the Bikeline maps. We recommend to check before ordering.