Bicycle-based day trips from Vienna
Day trip 1: Cycling the Wachau Valley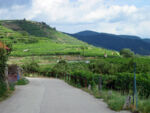 The valley is famous for the wine which is produced here for more than 2.000 years. While cycling along the Danube as it rolls through the valley, you enjoy the views across the vineyards, pass villages, wine taverns and churches. If you fency, walk up to one of the medieval castle ruins overlooking the valley and savour the view.
You will be cycling on dedicated cycle paths, partly in the vineyards, partly close to the river. There are cycle paths on both sides of the Danube, both taking a flat course of about 22 miles (36 km) each: <map link>. Here are a few places in the valley that want to be explored:
How to?
There are tour operators in Vienna offering day trips into the valley. These trips include cycling, to some extend. In our experience, the trips seem to attract mostly younger folk:
Alternatively, you can easily organise such a day trip yourself and discover the valley at your own pace. By train, the valley is only 1 hr from Vienna:
If you happen to stay near Franz-Josefs-Bahnhof station in Vienna:

Take a train to Krems (approx. € 19 one-way p.p.)
In Krems: Rent a bicycle from either one of the NextBike rental stations or from Zweirad Aichinger bike shop (map link, open Mo-Fr 8 am to 6 pm, Sa 8 am to 5 pm) A bike from the shop is likely more comfortable to ride.

If you stay near Vienna main station or Wien Westbahnhof station:

Take a train to Melk (approx. € 19 one-way p.p.)
Rent a bicycle in Melk from Wachau Touristik (<here>, 8 min walk)

Save money by purchasing one 'Einfach-Raus-Ticket' train ticket instead of several regular tickets. (Available at the train station and online for groups of up to five people. It is valid from 9 am on weekdays and even the entire day on weekends.) Train schedules on: oebb.at
Enjoy cycling up and down the valley, about 22 miles one-way. Stop wherever you like. Take picures. Do tourist-y things.
Return on the other side of the Danube or take the same way back. You will love it either way!
To shorten your ride, take one of the ferries across the river: in Dürnstein/Rossatz, in Weißenkirchen/St. Lorenz, in Spitz/Arnsdorf. (There are several ferries going along the valley. But building this into your itinerary would be a bit complicated as they are run by different operators.)
Last but not least: Bring either a cycle path map or install an app with downloaded maps of the area onto your mobile device (e.g. MAPS.ME). The path is very well marked but it feel better knowing where one is.
Tips and tricks:
Wearing padded shorts, possibly underneath, is highly recommended.
I you like to avoid 'climbing' the bridge at Melk (though a cycle path is available), consider taking the lock two miles upstream instead. Cycle paths to the lock exist at both banks.
If you think about cycling the entire valley, we recommend leaving Vienna rather early.
Day trip 2: Exploring the Danube near Hainburg
<TBD>