Getting to the Danube cycle path in Austria
Nearby international airports (most western first)
Munich (120mi from Passau, Code: MUC)
Salzburg (70mi from Passau, Code: SZG)
Vienna (10mi outside Vienna, Code: VIE)
Bratislava (7mi outside Bratislava, Code: BTS)
Getting from Vienna to Passau by bus (for cyclists!)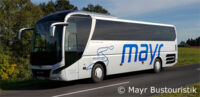 Between May and September, a bus from Klosterneuburg (just outside Vienna) to Passau is available. The service is called 'Radbus Klosterneuburg-Passau'. The bus takes passengers and their bicycles and luggage non-stop from the town of Klosterneuburg to Passau. (Klosterneuburg is about 10 miles outside Vienna, on the Danube cycle path.)
In 2022, the bus departs Thursdays and Sundays, May to September. Tickets are available in the tourist office in Klosterneuburg only! Hence we recommend booking your place(s) in advance, either over the phone or by e-mail. Tickets must be picked up at least 24 hours before departure. You might want to do that on your way to Vienna. The office is available from 9 am to 6 pm (Mo-Fr) and from 9 am to 1 pm on weekends (source, tourismus@klosterneuburg.net, p: +43 2243 320 38).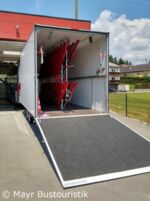 The bus is a 40-seater. A trailer will take your bicycle (see picture). Tandems as well as bicycle trailers will not get handled :(
Cost (in 2022): €99 adult (bicycle incl.), €89 children under 16 (bicycle incl.) [There is a discount of €10 (€20) if passengers are able to proof that they stayed in a hotel in Klosterneuburg for one (two) night(s). However, it is unclear how this actually works.]
Schedule: 9 30 from Klosterneuburg (The bus is expected to arrive at Passau main station around 3 pm. Calculate additional time to unload the bicycles.)
You are requested to be at the bus stop 30 minutes earlier (9 am)! Address of the bus stop: In der Au 2-4, 3400 Klosterneuburg (in front of 'Happyland' leisure center)
Getting from Vienna to Passau by train
The possibly most convenient way to travel between Vienna and Passau is to go by train. Regular trains operate all year round and take about 2 1/2 to 3 hours. The Austrian national railway company, ÖBB, sells tickets from about €50 per person. Train-specific, lower priced tickets might be available and need to be purchased beforehand. In any event, train tickets become available to book online 180 days prior to departure.
By the way: Vienna got several major train stations. Each one serves trains that come from or go into different directions. The most relevant stations are: Wien Westbahnhof, Wien Hauptbahnhof, Wien Praterstern, Franz-Josefs-Bahnhof, Wien Meidling and Wien Mitte-Landstraße. But no need to get confused. None of them is more than four miles away from the city center. A cab will always be happy getting you there. And the newly rebuilt main station (Wien Hauptbahnhof) connects trains from many directions now.
If you struggle with the ÖBB website, we recommend using the service of Deutsch Bahn: bahn.com (Vienna-->Passau) Their website is much more user friendly and you are even able to book the passage if it includes a train station within Germany (for example Passau). If you plan to bring your bicycle, tick where it says 'Carriage of bicycle' before sending your query.
Additionally, several coaches go between Vienna and Passau every day: Flixbus Coaches Bicycles can be taken along, but not too many!
Getting from Munich to Passau
Like with travelling Vienna<-->Passau, it is most convenient to use the train in order to get from Munich to Passau. The train station in Passau is located centrally. A taxi from Passau station to most of the hotels is less than €8 at daylight. Your preferred accommodation might even be in walking distance.
The train journey from Munich takes about two hours. With the regular fare being around €35 to €45 per person, much lower priced tickets are available. They are called 'Bayern-Ticket' or 'Regio-Ticket Donau-Isar' and are valid on all regional trains. If you don't like using vending machines at the station, get your ticket from one of the counters. Ask if there is a connection that provides one of the cheaper options to ride. Alternatively, get your train ticket online (available from 180 days prior to departure), for example on bahn.com (Munich-->Passau). A reservation on regional trains is not necessary.
Parking in Passau (long-term)
There are several ways to park your car or motorhome in (and around) Passau:
Book an overnight stay in one of these places and (unsupervised) park on its premises while cycling the Danube: Pension Gambrinus (€3 per day, 50 yds to the cycle path, 2 miles outside Passau), Gasthof 'Zur Triftsperre' (€2/day, 3.5 miles along the Ilz River), Hotel Dreiflüssehof (from €5 per night, 2 miles to the station, 75 yds to climb), Gasthof Zur Post (€12 per week, €2 per additional day, from Passau 7 miles downstream)
Park it in a multi-storey car park in Passau. There are more than 2,600 spaces. Hence reservation is not needed. The rates currently are:

€5 per 24hrs (car park at Regensburger Straße 1, "Parkhaus Bahnhofstraße", max. height 2.05 m, 400 yds to the train station)
€4.50 per day (car park near Obere Donaulände 11, "Parkhaus Donaupassage P4", max. height 2.10 m, max. 30 days, 200 yds to the train station [pictures])
€15 per day (car park at Nikolastraße 4, next to the Shell station, max. height 2 m)
€12 per day (car park at Obere Donaulände 5, "Parkhaus Schanzl", max. height: 2.05 m)
€12 per day (underground car park at Römerplatz 2, "Tiefgarage Römerplatz", max. height: 1.95 m!)

Make use of one of the local parking services. A transfer into town or to your river cruise is usually included. Be prepared to hand in your car keys while you are away. Surcharges for motorhomes apply. (Feel free to contact us if you are unable to fill in any of the online booking forms.):
Germany is a safe place. So why not parking your vehicle on-street for free, for example in a residential, peripheral area. Check the traffic signs carefully and avoid getting a ticket. The number of such car park spaces are limited and worrying about getting fined might not be worth it.
For the sake of completeness, parking with constraints:

Possibly €11.50 per day (car park at Jahnstraße 1, max height 2 m, ticket needs to be purchased in cash and in advance at a vending machine, situated across the Inn River)
€10 per day (multi-storey car park City Parkhaus at Kollerwirtsgasse, max. 30 days, closed Sundays and at night!, max. height: 1.90 m! [car park operator])
€4.50 per 24hrs, €22.50 per week (max. two weeks, car park Parkplatz Hauptbahnhof West P3, 34 places only, situated possibly at the back of the multi-storey car park at Regensburger Straße 1; if correct, pass the multi-storey car park on the right to find the parking slots and the vending machine [car park operator], make sure to park your car between the lightly painted white marks on the ground)
Park+Ride car park at Kapuzinerstraße 57: day ticket €3, long-term parking prohibited!
(Prices per June 2021)
Please contact us in case one of the links does not work anymore or prices have changed. We will be happy to update it. Thank you very much in advance.
BTW: You will find some of the information above in a list published by the Passau Tourist Information: Long-term parking in Passau. The list includes additional inns and hotels offering parking spaces but further away in the countryside or hills.